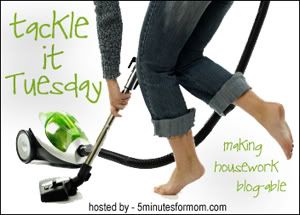 One of the good things about Kaiden being in preschool is the extra time that I now have in the morning to get things done! Hallelujah! The other good thing is that I have extra quality time to spend with Madelyn without her having to compete with her older brother. Oh how special it has been. Since Madelyn still takes a pretty significant morning nap I am able to tackle some projects and/or daily chores in a timely manner along with giving her some Mommy and me time. Today I have felt oh so productive!
To Do List:
Clean master bathroom

(check!)

Dust all furniture

Dust and reorganize china cabinet

(check!)

Laundry. Wash, fold and put away

(2 loads down, 2 to go!)

Put away and organize Madelyn's baby burp cloths, bottles and bibs.

Make Eggplant

Parmesan

for dinner.

Take pictures and post pool table on Craig's List.
I actually was able to do a few things yesterday like strip all the beds and put clean sheets on them and clean the kitchen. So far this week is getting off to a productive start!
What are you tackling?