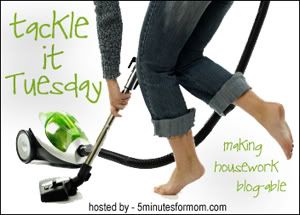 I am feeling quite ambitious today. That might not last too long, but hey, I figured I better go with it before I run out of gusto. I slept in today and didn't go to the gym at 4:45am. That might have something to do with it. But, whatever the case, I got lots to do and today's my day!
Morning walk with Kaiden and Paco.

Check!

Clean bathrooms. Master-Check! Powder room-in progress (I needed a break!)

Clean kitchen

Print and fill out application for social security card for Kaiden.

Check!

Laundry

Make appointment to get my hair did.

Check!

Vacuum

Dust

Look into dental insurance for Kaiden and fight with HR to find out why he was never added.

Nap
If all goes according to plan, and Kaiden manages to nap well for me today (I'm not too optimistic on that) then I may just get everything done that I need to. Well, that is if I can stay off the computer and stop blogging when I should be cleaning.
What are you tackling today?