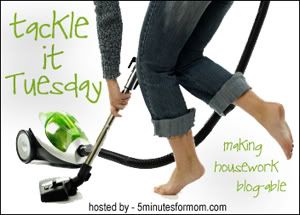 Nothing really overly interesting being tackled today. Just the norm...

Renew library books online before I start racking up a

hefty

fine.
Make Cardiologist appointment for

Kaiden

. Check!

Call about fence repair. Don't ask.

Call about tree removal service. AZ Monsoon=two fallen trees in yard.

Go pick up car from Auto Body Shop and gladly give back crappy rental car.

(Note to self: NEVER buy KIA car....it sucks)

Start on laundry piles before the clothes grow arms and legs and wash themselves.

Fold laundry that has been in the dryer since yesterday. (Luckily it is

Kaiden's

items that don't need to be ironed or ironing would be on the list of "to

do's

" too!)

Hose bug guts off blow up pool in back yard. Yuck.

Walk dog.

Check!
Go to

Wal

-mart to buy plain yogurt so can I make Turkey Quiche for dinner

(recipe to follow tomorrow! Yum-O!)

Clean up crap around house and give it all a "home."
Sounds like I'd better get off this computer and start tackling!
What are you tackling today?